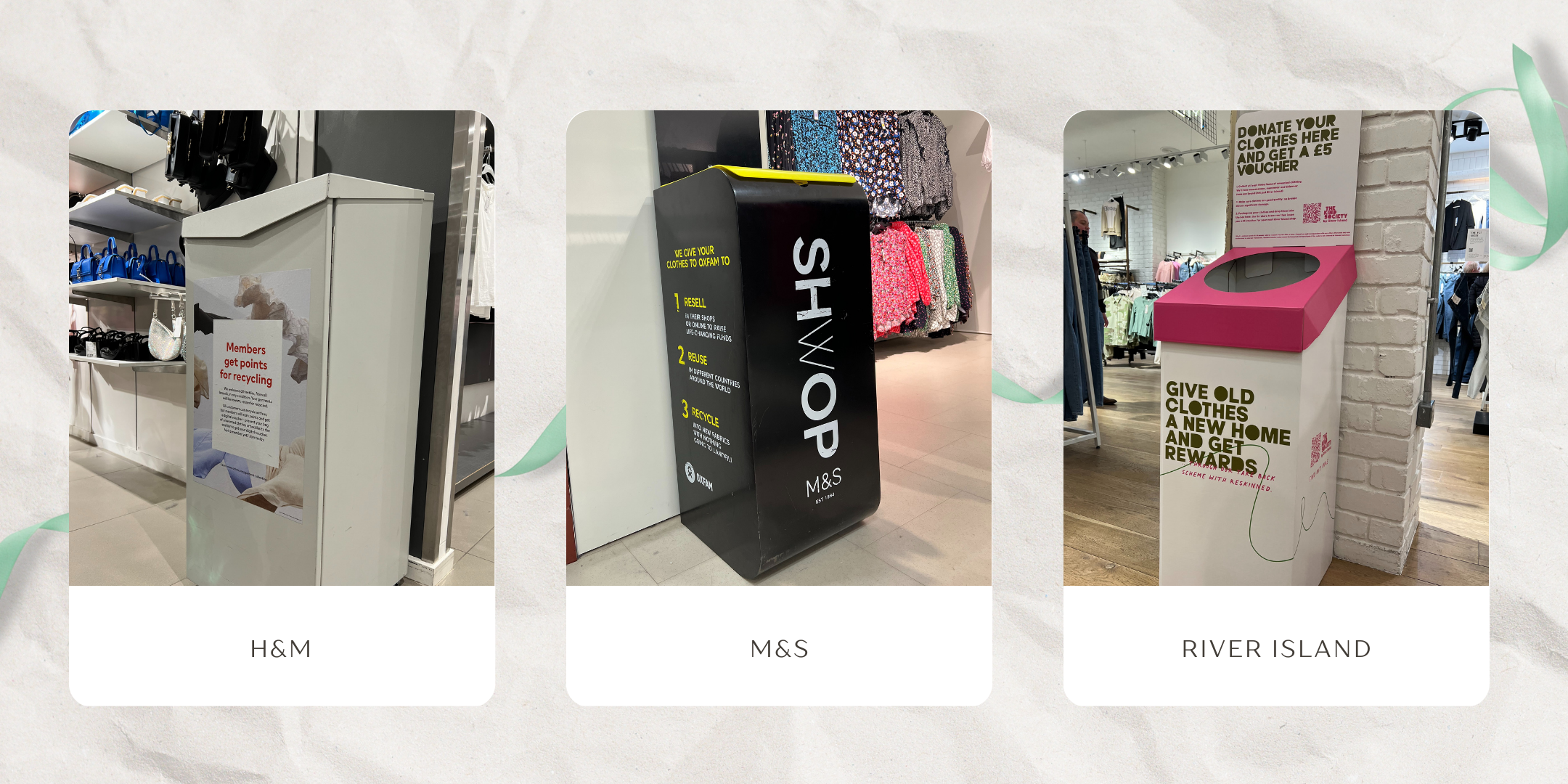 Recycling at Cribbs
From pre-loved clothes to beauty empties, there are numerous of ways to recycle your items and get something back, here at Cribbs.
Clothes
H&M
Don't want it? Recycle.
Their Garment Collecting programme has been going since 2013 and  works like this:
1. Take any unwanted clothes or textiles, by any brand and in any condition, to one of their stores.
2. Hand in your bag of old clothes at the cash desk and receive a thank you voucher to use towards your next purchase. Easy!
Once you've dropped off your previously loved fashion in one of their garment collecting boxes, their business partner takes over. They empty the boxes and sort the contents into three categories:
Rewear: Wearable clothes are marketed as second-hand clothing.
Reuse: If the clothes or textiles are not suitable for rewear they're turned into other products, such as remake collections or cleaning cloths.
Recycle: All other clothes and textiles are shredded into textile fibres and used to make for example insulation materials.
John Lewis
Bring five items of pre-loved clothing to be resold or recycled and John Lewis will  give you £5 off your fashion or homeware purchase that day when you spend £20 or more to say thank you. Exclusive to My John Lewis members.
Which clothes can you return?
Most clothing items including shirts, t-shirts, jumpers, trousers, shorts, dresses & some children wear. For a full list of what is accepted, please see the terms and conditions on the John Lewis website.
Where do my clothes go?
John Lewis will be working with Satcol, the largest charity owned textiles sorting provider in the UK. At the sorting centre they will separate the textiles into 3 graded types:
A: For onward selling in charity shops 
B: For selling to secondary markets 
C: If the textile is end of life or not rewearable then it will go through the textiles sorting machine where it separates out the different types of textiles. These separated textiles can then be sold for onwards repurposing into all kinds of products including pet bedding or carpet underlay. This market leading machine limits the amount of textiles that end up in landfill.
M&S
Let's shwop!
Every time you place pre-loved clothes in one of their Shwop boxes they're resold, reused or recycled, so absolutely nothing goes to waste.
And now, if you're a Sparks customer, you'll get a free treat every time you Shwop. Simply scan the QR code on the top of the Shwop box in any M&S clothing store and the treat will appear in your Sparks hub.
Shwoppping is about bringing a pre-loved item of clothing into an M&S store (even if it's not from M&S) each time you come to buy something new. You can put your Preloved items into a "Shwop" box (you can find them in more tills in most M&S store.)
All clothing goes to Oxfam and they'll either resell it in on of their shops or on the Oxfam Online Shop.
River Island
Through our TakeBack scheme in partnership with Reskinned, we'll find your unwanted clothes a new home by re-selling, repurposing or recycling them. You'll get a £5 voucher for your next River Island shop, as a little thank you! To take part, you need a minimum of three items from any brand, which you can drop off at boxes at 200+ stores nationwide, or organise a courier drop-off online (don't worry, we'll pay for posting). For each donation of three items, we'll give you a £5 gift voucher for you to redeem off a £40 shop, valid for one month. T&Cs apply
Shoes
Schuh
Want £5 off* new shoes? Of course you do!
Their Sell Your Soles scheme is back (in an even safer way)! Bring down your old, worn shoes and schuh will give you £5 off your brand new pair. All stores have been provided with trays that they ask that you place your worn shoes onto to reduce the risk for staff due to COVID-19. These will then be taken in the tray and tipped into the relevant carton within the stockroom without their shoe-selling stars touching them. Let's stay safe, sustainable and keep it schuh.
You can redeem the voucher online or in-store, whatever works for you. Already got a voucher to spend? Check out schuh's latest men's, women's and kids' footwear        
Beauty
Lush
The refreshed recycling scheme, Bring It Back, launched in March 2021 and invites customers to return any of their Lush plastic packaging back to the shops for recycling. Not only that but Lush fans can also claim 50p towards their Lush shopping per qualifying item they bring back! This 'deposit return' will be added towards their total bill at the till-point on the same day.
You can even return your 10ml sample pots for an additional 5p off your shopping per item!
Not only that, but recycling-savvy customers (and staff) have been able to claim a free fresh face mask in exchange for 5 empty Lush pots since they switched to their recycled plastic material too. This scheme saw thousands of Lush pots returned through their shops each year - so thank you to everyone who has helped  create a closed-loop recycling system.
All you need to do is return your clean empties to  the store – they'll take care of the rest.
The Body Shop
Our Return, Recycle, Repeat scheme is back. And it's bigger than ever.
Once you've brought all your empty packaging into store and all our bins are full, our partners Scan2Recycle will come and collect. The packaging is then sorted by MYGroup at their facility in Hull before being recycled or repurposed into raw materials for new products. We repeat this process every time, so your packaging never ends up in landfill or incineration.
How does it work?
Make sure your beauty packaging, bottles, pipettes, pumps, mascaras and lip glosses (yep, we want those hard to recycle bits) are as empty as possible, clean and dry.
1. Make sure your beauty packaging, bottles, pipettes, pumps, mascaras and lip glosses (yep, we want those hard to recycle bits) are as empty as possible, clean and dry.
2. Bring them into store and pop them in one of our Return, Recycle, Repeat bins. We even accept packaging from other brands!
3. We'll make sure they're recycled or repurposed and given another life through our UK partners Scan2Recycle, MYGroup and ReWorked.
Their refill revolution
Have you heard about their refill revolution? They're trying to reduce the amount of plastic going out into the world with their refillable aluminium bottles.
Get yours today in store.
John Lewis Beauty Cycle
Finished your face cream? Used the last of your lip balm? They'll recycle your empty beauty product containers for free.
Not only can they recycle a broad range of beauty packaging that you'll struggle to recycle at home – if you're a My John Lewis member, you'll get £5 off when you spend £20 or more on Beauty that day too. Just bring in five or more clean, empty beauty product containers to any of their beauty counters.
(Unfortunately they can't take glass containers or aerosols.)