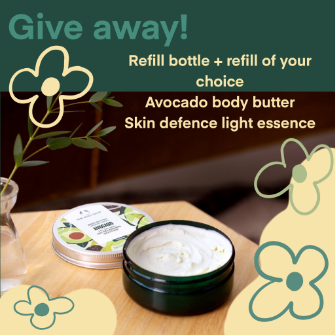 Let's clean up our act to clean up the planet. And it starts with a refill revolution. In 2019, The Body Shop relaunched their pioneering product refill scheme in two new concept stores.
The Body Shop are now making the most sustainable choice irresistible with their new, easy in-store refill station at Cribbs. Here's how it works.
Steps
STEP 1
Pick up one of the aluminium bottles at a selected store.
STEP 2
Ask a member of the friendly team to fill it up with your favourite refillable haircare, shower gel or hand wash.
STEP 3
Once you've used all the lovely stuff in your bottle, give it a good rinse and dry, bring it back and refill it.
What can I refill?
Get squeaky-clean head-to-toe, without the wasteful packaging. The Body Shop has expanded their line-up so you can fill up on haircare, shower gels and handwashes from their best-loved ranges.
Product availability varies by store, so pop to the Cribbs refill store to see which goodies are on offer. 
How do I clean my bottle?
Ready to refill, reuse, repeat? Once you've used up all the lovely stuff in your aluminium bottle, give it a good rinse and dry before you pop in store for your refill. Here's how to keep it spick and span:
  1. At home, fill your bottle halfway with lukewarm water. Replace the pump and shake vigorously. Tip out the water and repeat this step until it's free of soap.
  2. Once all the soap has gone, fill the bottle again, halfway with lukewarm water. Replace the pump and pump out the water until it's empty. Repeat this step until the water runs clear.
  3. Use cold, boiled water for one final rinse of the bottle and pump.
Leave the bottle to dry upside down with the pump off before bringing it back to refill. Replace the pump for travel and pop in store.
What will I be doing for the planet?
It's a simple switch that saves a whole lot of plastic. Because when you refill, you throw away less – and it starts with one bottle to replace them all. The Body Shop are closing the loop on waste and giving you more ways to shop the products you love, without wasteful packaging. And with their global footprint, each of their small acts can make a big difference. Make the switch to refill and together we could save over 25 tonnes of plastic per year. The Body Shop are constantly working towards clever ways to empower people and the planet, so have a peep at how they're sourcing ethically and sustainably, reviewing their packaging and rolling up their sleeves to help clean up our planet.
Competition Form