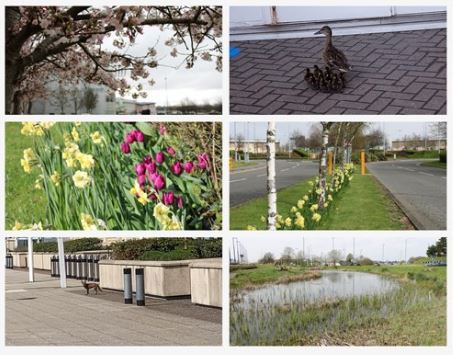 Earth Day falls on 22 April 2022, and this year the theme is 'Invest in our Planet.' Earth Day calls on businesses and individuals to work together to preserve and protect our health, our families and our livelihoods. By working together, we must Invest In Our Planet.
Here at Cribbs we have many environmental initiatives which aim to help fulfill these needs and catalyse change in the business. They cover many areas, from waste management to water usage. Here are just a few examples. 
Waste Management
XO3 Aerobic Digestion of Mixed Waste via specialised equipment reduces food waste and general waste from food outlets by 65% reduction in mass, and a 75% reduction in volume.
In February 2022, 55,519m3 of C02 was saved and 56,620kWh of Energy was saved. 
In 2021, 0% of Centre waste was diverted to landfill. 29% of generated waste was recycled and 66% recovered. 
818,380m3 of C02 was saved, 1,493,212kWhs of energy was saved, 4,453,813 litres of water was saved and 2,897 trees saved.
Water Conservation
Water consumption has reduced by 52.89% since 2012. On average in 2021/2022 2,662 cubic metres per month were used compared with 5,652 cubic metres per month in 2012/2013.
Energy Conservation
At Cribbs we use long lasting light bulbs in the centre.
We also celebrated Earth Hour on 26 March by switching off lighting in the centre for one hour from 8.30pm. 
Tree Planting
This year we have taken part in the Queen's Green Canopy Project, planting a tree in the Cribbs garden supporting the local Badminton Care Home. We have also planted 13 new trees in F Car Park for the new cycle path / footpath.
EV Chargers
We partnered with South Gloucestershire Council to provide space for several EV charging points at The Venue. Cribbs is fully committed to supporting the growth of sustainable travel, and these charging points are just the latest in our EV charging roll-out, with a further 26 chargers situated within the Mall car parks. Along with the Metro bus and a major new footpath and cycle network, these chargers will bring our visitors even more means to access the centre sustainably.
Sustainable Play Park
At the start of the year the centre launched an amazing new environmentally friendly play park, partnering with Bristol-based natural outdoor play equipment specialist Touchwood Play to install an innovative and imaginative new play area made almost entirely of wood.
Nature
We love nature here at Cribbs! We love to support the nature that we find on our grounds all year round. We conduct audit counts of the bug life in our grassland areas and we have also been home for the last three years to a breeding pair of ducks who next and raise their clutch in one of the hedges. We have even been known to close a road to allow the mother duck to lead her ducklings to water in the wetlands!
We also have an extensive range of bumblebee breeds that forage through the lavender borders that edge our car parks. They have even been recorded for the Bumble project - you can read more here.