Every year, we are called as a nation to unite in commemorating Remembrance Sunday to make sure that no-one is forgotten and to remember and honour those who have lost their lives in conflict.
In honour of those, we have displayed below three brave men from Bristol who were awarded the Victoria Cross for their efforts during World War 1. The Victoria Cross is the highest and most prestigious award of the British honours system.
Thomas Edward Rendle
December 1884 – June 1946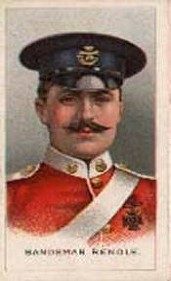 Thomas Edward Rendle (1884-1946) was born at 113 Mead Street, Bedminster, Bristol on 14th December 1884, the eldest of seven children, one of whom died in infancy.
Thomas was 29 years old, a bandsman in the 1st Battalion, The Duke of Cornwall's Light Infantry, British Army during the First World War. On 20 November 1914 near Wulverghem, Belgium, Bandsman Rendle attended to the wounded whilst under very heavy rifle and shell fire and rescued men from the trenches in which they had been buried from the blowing in of the parapets by the fire of the enemy's heavy howitzers.
Thomas' sight was affected by high explosives and he was evacuated to England and sent to Voluntary Aid Hospital No 1 (West of England Eye Infirmary), Exeter.
As a result of his bravery Thomas was awarded the Victoria Cross.
After World War I, he emigrated to South Africa where he became bandmaster of the Duke of Edinburgh's Own Rifles.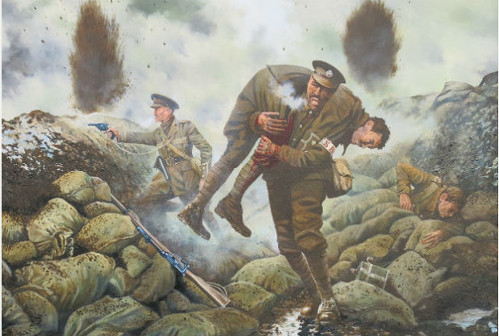 David Rowlands Painting
Douglas Reynolds
September 1882 - February 1916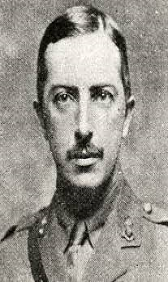 Douglas Reynolds (1882-1916) was born at 5 Miles Road, Clifton, Bristol on 21st September 1881.
Douglas was 31 years old, and a Captain in the 37th Bty., Royal Field Artillery, British Army during the First World War when the following deed took place for which he was awarded the VC –
On 26 August 1914 at Le Cateau, France, Captain Reynolds took up two teams with volunteer drivers, to recapture two British guns and limbered up two guns under heavy artillery and infantry fire. Although the enemy was within 100 yards he managed, with the help of two drivers (Job Henry Charles Drain and Frederick Luke), to get one gun away safely. On 9 September at Pysloup, he reconnoitered at close range, discovered a battery which was holding up the advance and silenced it (The London Gazette, 1914).
Major Reynolds is buried in Etaples Military Cemetery in Northern France and his Victoria Cross is displayed at the Royal Artillery Museum in Woolwich, London.
Frederick George Room
May 1895 - January 1932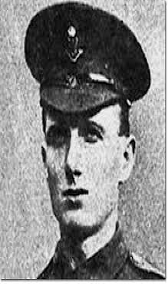 Frederick George Room (1895-1932) was born at 42 Oak Road, Horfield, Bristol on 31st May 1895.
Frederick was 22 years old, and an acting lance-corporal in the 2nd Battalion, The Royal Irish Regiment, British Army during the First World War when the following deed took place for which he was awarded the VC –
On 16 August 1917 at Frezenberg, Belgium, when the company which was holding a line of shell-holes and short trenches had many casualties, Lance-Corporal Room was in charge of the stretcher-bearers. He worked continuously under intense fire, dressing the wounded and helping to evacuate them. Throughout this period, with complete disregard for his own life, he showed unremitting devotion to his duties (The London Gazette, 1917).
His Victoria Cross is displayed at the National Army Museum, Chelsea, England.
Despite being closed to the public, for all but essential retail, we will be showing our respect with two minutes of silence at 11am ❤️