As the world is becoming more environmentally conscious, retailers are finding ways in which they can also do their bit to help the planet. Timberland have stepped up their game with two initiatives; Plant the Change and Second Chance.
PLANT THE CHANGE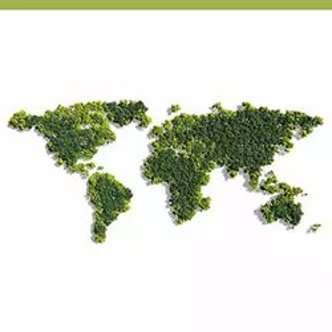 Timberland recognise the power of trees to improve the quality of the planet as well the well-being of an individual. That's why they've committed themselves to plant 50 million trees in 5 years, and in order to do this they've teamed up with seven partners, below are just a few of these and how they're working with them.
GREAT GREEN WALL
The Great Green Wall, partnered with TreeAid, is a movement to grow an 8000km line of trees across the entire width of Africa to fight climate change, drought, famine, conflict, and migration. So far over 16 million trees since 1987 and regenerated many more to bring hope to the people of Mali by planting trees to fight desertification and mass migration.
SMALLHOLDER FARMERS ALLIANCE
The Smallholder Farmers Alliance (SFA) plans to use tree currency to reintroduce cotton to Haiti giving them a high-value crop whilst planting more trees. Since 2010 7.5 million trees have been planted in Haiti.
TREES FOR THE FUTURE
Trees for the future has planted over 115 million trees in dozens of countries, Timberland have partnered with them to educate farmers in Kenya and Senegal so that they can plant trees and crops to make a better living.
TREEDOM
Treedom is a company based in Europe that promotes agroforestry projects around the world. Since 2010, more than 600,000 trees have been planted in Africa, South America and Italy.
SECOND CHANCE
RECYCLING WORN SHOES 
Customers can return any worn shoe to Timberland (that means any brand and condition!) and they'll offer you 10% off your next Timberland purchase, the shoes will then be recycled. And for a limited time (20th February - 1st March) any worn shoes you hand in you'll receive a 20% off voucher, that's an offer not to be missed.
This initiative was launched in Germany in 2016 with 18 stores collecting 5000 shoes, now the scheme features in 178 stores and in early 2018, 960 kilos of shoes were collected, which is a total of approximately 1,700 pairs.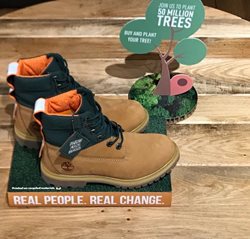 USING RECYCLED MATERIALS TO CREATE CLOTHES & SHOES
Timberland have collected old car tyres and plastic bottles to create products such as soles and fabric, an example of this are their ReBotl Boots (£170) which are made out of 50% recycled plastic, and their ReBotl Coat (£130), which has been created with 20 plastic bottles!